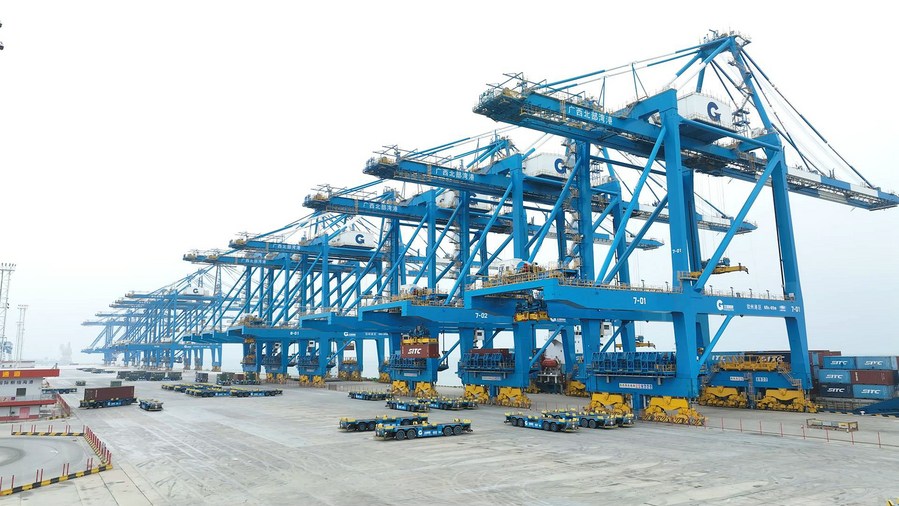 This aerial photo taken on Oct. 9, 2023 shows the automatic container terminal at the Qinzhou Port in Qinzhou, south China's Guangxi Zhuang Autonomous Region. (Xinhua/Zhang Ailin)
BEIJING, Nov. 17 (Xinhua) -- A total of 41,947 new foreign-invested companies were established in China during the first 10 months of the year, data from the Ministry of Commerce showed Friday.
The figure marked a 32.1 percent increase from the same period a year earlier.
During the period, foreign direct investment (FDI) in the Chinese mainland in actual use came in at 987.01 billion yuan (about 137.6 billion U.S. dollars), down 9.4 percent year on year.
Specifically, FDI in manufacturing rose 1.9 percent year on year to 283.44 billion yuan, with that in high-tech manufacturing logging an increase of 9.5 percent.
FDI from Canada, the United Kingdom, and France surged 110.3 percent, 94.6 percent and 90 percent, respectively, the data showed.
China has reiterated the country's commitment to market opening up and its efforts to ensure a level playing field for foreign investors.
The country will shorten its negative list for foreign investment in a reasonable manner and scrap all restrictions for foreign investors entering the manufacturing industry, said Li Chao with the National Development and Reform Commission at a press conference on Thursday. ■
Editor: JYZ