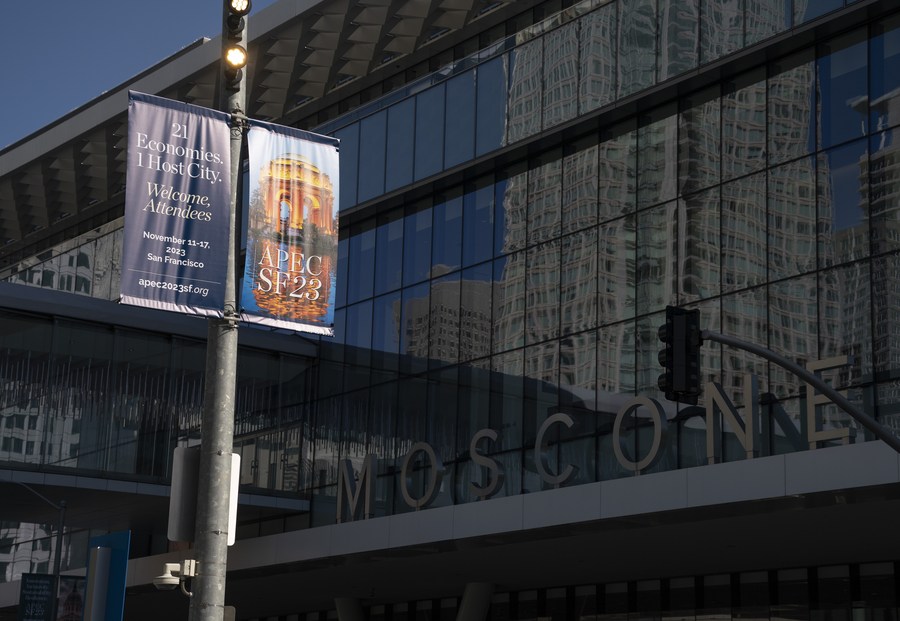 This photo taken on Nov. 7, 2023 shows banners depicting the upcoming 30th APEC Economic Leaders' Meeting outside the venue of the meeting in San Francisco, California, the United States. (Photo by Li Jianguo/Xinhua)
BEIJING, Nov. 15 (Xinhua) -- At the invitation of U.S. President Joe Biden, Chinese President Xi Jinping has arrived in San Francisco on Tuesday for a China-U.S. summit and the 30th Asia-Pacific Economic Cooperation (APEC) Economic Leaders' Meeting.
The visit to San Francisco marks Xi's return to the United States after six-plus years and also signifies another face-to-face meeting between the two heads of state following last year's handshake in Bali, Indonesia.
Eight years ago, in a speech on China-U.S. relations at a welcoming dinner hosted by local governments and organizations in Seattle, the United States, Xi said, "We must foster friendly sentiments among our peoples. People-to-people relations underpin state-to-state relations."
"The foundation of China-U.S. relations lies among the people, the hope is in the people," Xi reiterated during his meeting with California governor Gavin Newsom last month.
With the upcoming Xi-Biden summit, China has once again extended the hand of friendship toward the other side of the Pacific.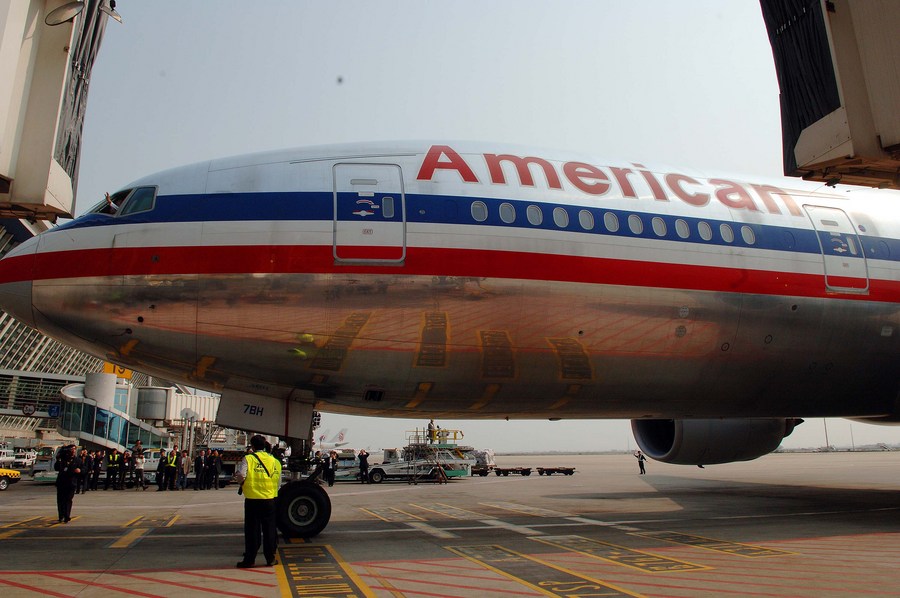 The first flight of American Airlines to China, AA 289, arrives at Shanghai Pudong International Airport on April 3, 2006. (Xinhua Photo/Wang Jianhua)
FROM BEIJING TO SAN FRANCISCO
San Francisco is the first U.S. city that was directly reached by a Chinese commercial flight. On Jan. 7, 1981, a Boeing 747SP large passenger aircraft flew over the Pacific Ocean, becoming the first flight between China and the United States linking Beijing, Shanghai, San Francisco, and New York.
Over the past 42 years, busy flights have witnessed increasingly close connections between China and the United States.
Earlier this month, Air China and United Airlines successively resumed direct flights between Beijing and San Francisco, signaling improved relations between the two sides.
At the San Francisco International Airport, Roger Jansen, a retired American photojournalist who had just concluded his trip to China, was eager to share his travel experience.
He said he traveled to Shanghai and Beijing on China's high-speed bullet train, and enjoyed good food. "Everybody was friendly and nice. You know we should all get together. Not that fight and feud."
Dennis Simon, a distinguished fellow of the Institute for China-America Studies, is also paying close attention to the upcoming summit.
"They definitely have a very complex agenda that the two men are going to have to address. But first and foremost, they're going to have to figure out a way to stabilize the relationship," he said in a recent interview with Xinhua.
"It is incumbent upon both countries and the leaders to find a pathway forward to reduce tensions and to make it worthwhile for the citizenry in both countries to benefit from the engagement between the two governments," he said.
"I'm a big believer in people-to-people diplomacy. I think if we look at the last 40-plus years of U.S.-China relations, the people-to-people dimension has grown far beyond what anyone would have imagined," said Simon, who has over 40 years of experience studying and working in China.
Musicians from the Philadelphia Orchestra and Shanghai Philharmonic Orchestra perform during their Chinese New Year Concert in Philadelphia, the United States, Jan. 29, 2019. (Xinhua/Wang Ying)
MUSIC AS BRIDGE
Just as the Golden Gate Bridge spans across San Francisco Bay, facilitating connectivity among local residents, music has acted as a "bridge" between China and the United States.
Fifty years ago, the Philadelphia orchestra came to China, an ice-breaking journey of cultural exchanges between the two countries.
Five decades later, the orchestra performed in Beijing with the China National Symphony Orchestra alongside vocalists from various countries, together creating harmonious symphonies during its ongoing 13th visit to China.
Xi, in his reply to a letter from Matias Tarnopolsky, president and CEO of the orchestra, said that he hopes the orchestra and artists from China, the United States and other countries will continue their efforts to strengthen people-to-people ties between China and the United States and spread friendship among peoples of the world.
Valuing the orchestra's half-century bond with China, Tarnopolsky said he hopes to see the relationship continue to grow and flourish.
"Cultural exchange is fundamentally important as a path to understanding between peoples," said Tarnopolsky. "Music connects us all, be it across geographic boundaries, languages, cultures and centuries."
Davyd Booth, a violinist and one of the members of the 1973 trip who still plays in the orchestra, said the tour 50 years ago was "one of the most important events" in his life.
"I think we can show people that there is positive hope for everyone everywhere," said the 73-year-old violinist. "Music is a universal language. It is the most abstract art form that can touch people and become a bridge to connect us."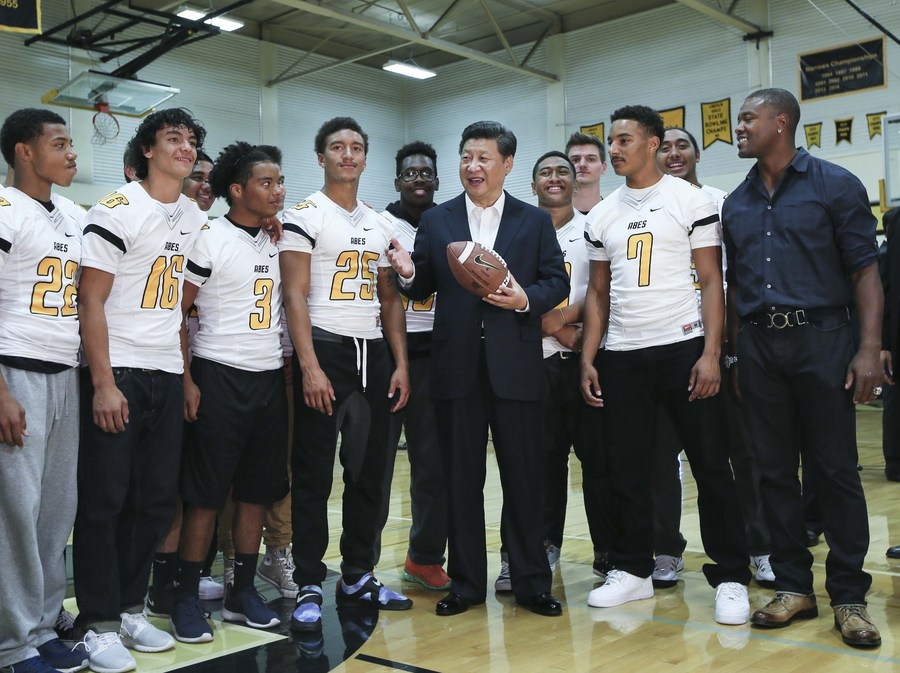 Chinese President Xi Jinping (3rd R, front) talks with students taking part in rugby training during his visit to the Lincoln High School in Tacoma of Washington State, the United States, Sept. 23, 2015. (Xinhua/Lan Hongguang)
FUTURE ROOTS IN YOUTH
During his visit to Lincoln High School in 2015, Xi invited the students to visit China, saying, "Through travel, you will know China better, and hopefully you will like China."
One year later, a delegation of students and teachers from Lincoln High School visited Chinese cities including Fuzhou, Chengdu and Beijing.
Recalling the gift of travel for his students from Xi, former Lincoln High School Principal Patrick Erwin said that students will lead the way to better relationships between our countries.
"Students are the voice of the future, and the more they can visit each other, the better the chances we will have successful futures," he said.
Over the years, Xi has placed significant emphasis on fostering genuine interactions among the youth between the two sides, sowing the seeds of friendship in their hearts, nurturing future ambassadors of goodwill and building bridges for future China-U.S. friendship.
Earlier this month, 23 U.S. college students experienced a five-day China Education Tour organized by Southwest Jiaotong University in China's Sichuan Province.
Tor Parsons, a student from Lewis &Clark College, said that he would like to post about his experience on social media to let more young Americans know about China.
"I hope my students can gain a deeper understanding of all aspects of China," said Drew Kunard, the director of the trip.
"Through the exchanges, the friendship between the young people of China and the United States has grown, and the understanding and respect for each other have deepened," said David Chong, founder and president of the U.S.-China Youth and Student Exchange Association.
As Xi stressed in his reply letter to the U.S.-China Youth and Student Exchange Association, "the hope and foundation of the China-U.S. relationship lie in the people, and its future lies in the youths."
Editor: ZAD