BEIJING, Nov. 15 (Xinhua) -- Chinese President Xi Jinping is in San Francisco for a high-stakes summit with his U.S. counterpart, Joe Biden, seeking the way forward for the strained ties between the world's two largest economies.
It is a coincidence that San Francisco, the U.S. state of California, was the first stop of Xi's maiden trip to the United States decades ago. In the spring of 1985, Xi, at that time a county leader of Zhengding in China's northern province of Hebei, took his initial steps onto U.S. soil.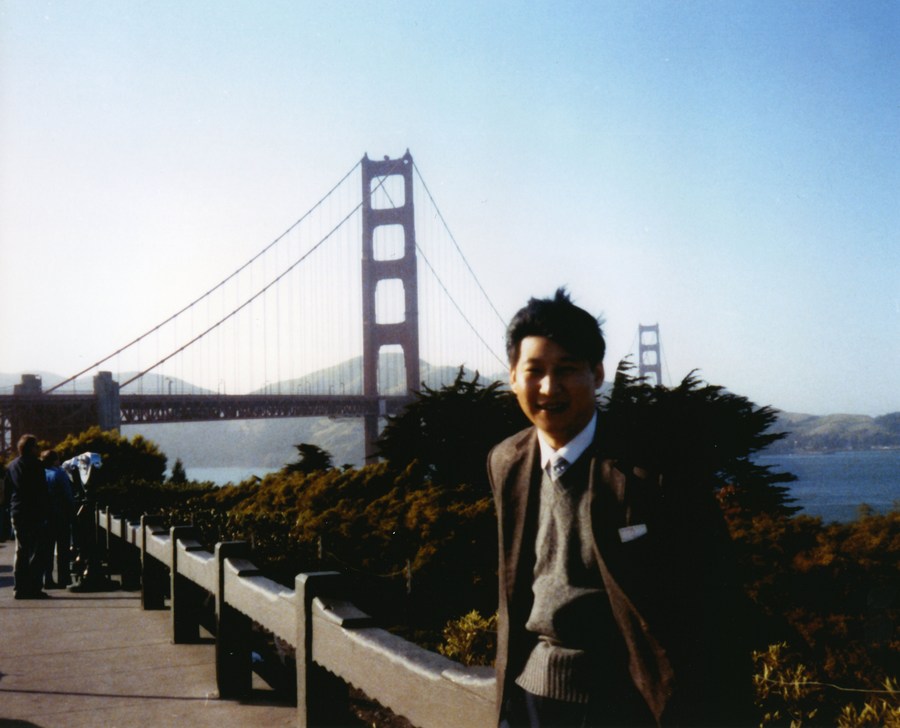 This file photo taken in 1985 shows Xi Jinping visits San Francisco in the United States. (Xinhua)
Much like any other city visitor, Xi, a young man in his early thirties, had his picture taken with the Golden Gate Bridge.
That trip helped Xi get acquainted with the United States, and from then on, he fostered friendships with American people. The enduring strength of such amicable bonds has always served as a wellspring of vitality for bilateral ties, both in favorable and in challenging times.
Rewinding to a time when China started its reform and opening-up, Chinese and U.S. cities, provinces and states began building amicable ties around 1979. Hebei and Iowa signed their sister-state relationship in 1983, which led to Xi's 1985 trip.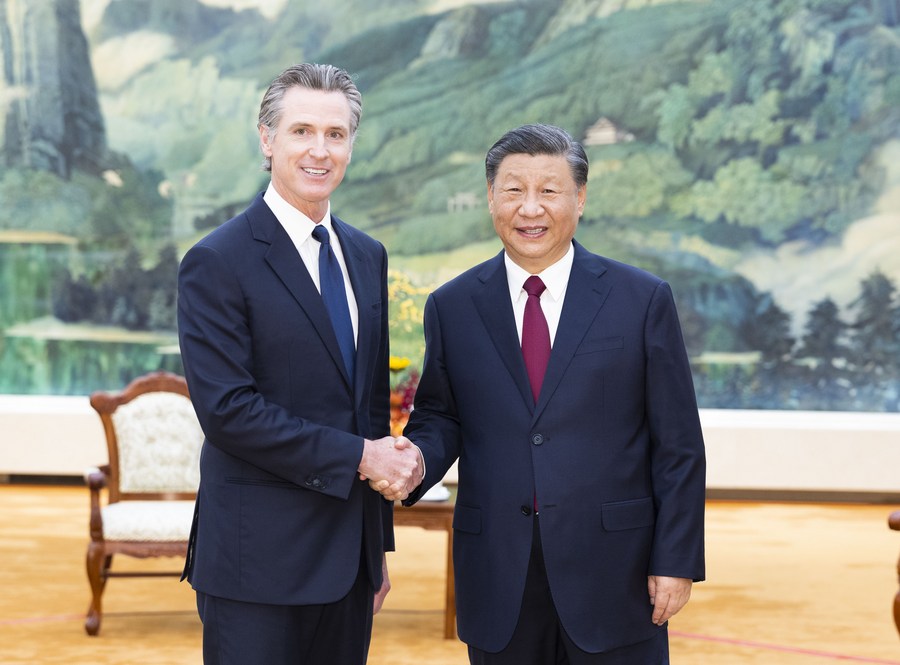 Xi Jinping meets with Gavin Newsom, governor of the U.S. state of California, at the Great Hall of the People in Beijing, capital of China, Oct. 25, 2023. (Xinhua/Huang Jingwen)
Over the years, Xi himself has been persistently promoting bilateral ties at the local level. During a meeting in Beijing with visiting California Governor Gavin Newsom last month, Xi happily recalled his California trip decades ago.
In his 2012 trip to the United States, Xi, apart from reuniting with old friends, also met "new friends." He and Biden, then U.S. vice president, met with governors from China and the United States in California.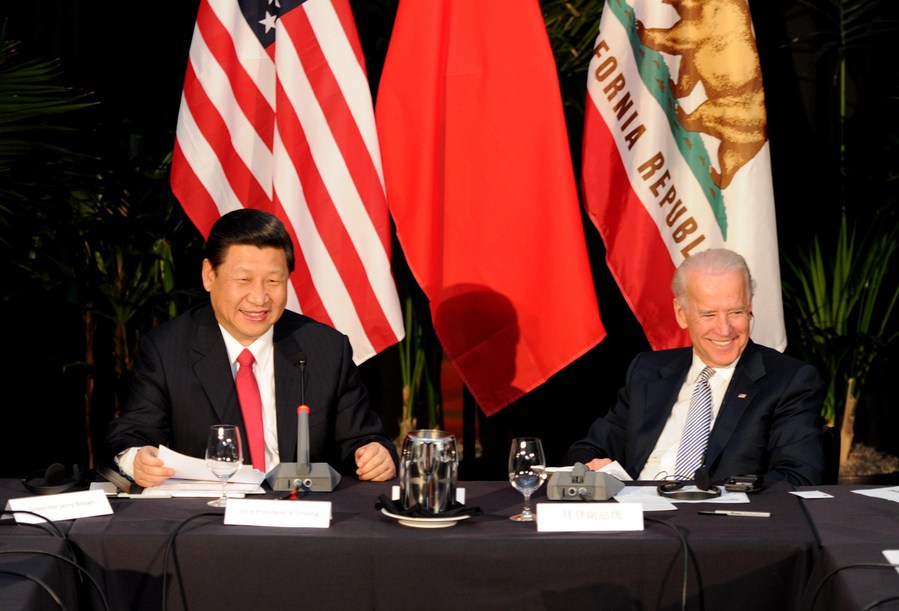 Xi Jinping (L) and his U.S. counterpart, Joe Biden, smile as they meet with governors of Chinese provinces and U.S. states in Los Angeles, the United States, Feb. 17, 2012. (Xinhua/Xie Huanchi)
During a speech, Xi said that he noticed Hawaii Governor Neil Abercrombie had a box of chocolates with him, and many Chinese tourists returning from Hawaii would bring back chocolates.
Abercrombie took the box of chocolate-covered nuts and suggested that Xi try them. Biden, seated nearby, promptly grabbed one and placed it in his mouth. Xi sampled the chocolates after concluding his speech and then passed the box to the governors present, inviting them to share the treats.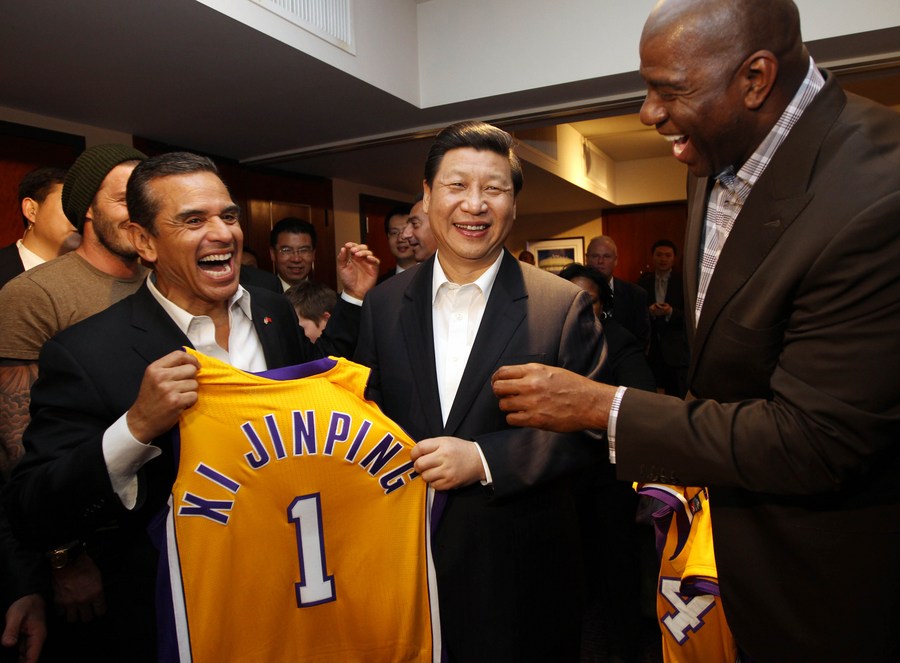 Xi Jinping (C, front) is presented with a souvenir Los Angeles Lakers jersey with his name imprinted on it by former Lakers star Magic Johnson (R, front) at the Staples Center in Los Angeles, the United States, Feb. 17, 2012. (Xinhua/Lan Hongguang)
More delightful moments unfolded when Xi showed up to watch an NBA game. The Lakers were facing off against the Suns, and Xi took his seat at the arena. He remained remarkably focused on the game.
Then Los Angeles Mayor Antonio Villaraigosa sat beside Xi. The two discussed the highlights of the game with each other, laughing from time to time.
The bonds between Chinese cities and provinces and those in the United States have grown over the decades. A total of 284 pairs of sister provinces/states and sister cities have been formed since the first pair was set in 1979. Xi described those special bonds as "important platforms for deepening friendship and achieving win-win cooperation."
"If we look at the 40-plus years of U.S.-China relations," said Denis Simon, distinguished fellow at the Institute for China-America Studies, "the connections between universities, think tanks, cultural organizations, art ... have become an integral part of this relationship."
"They've become part of the glue ... that has held the two countries together, even in times of difficult political situations," Simon said.
Editor: WXL