The world was surprised and shocked by last month's announcement that feuding regional Middle East powerhouses Iran and Saudi Arabia had agreed to shelve their hostilities and put aside their deep-seated animosities. The even greater shock, especially in the United States, was that it was China that had facilitated and brokered the deal. This was something the US was impotent to accomplish, given its lack of diplomatic relations with Iran for 43 years, and foreshadows China's vision and practice of peaceful development, consultation and dialogue, inclusiveness and mutual learning becoming a common choice for the global community.
The new type of international relations based on win-win cooperation that China advocates is opposed to the previous regional order in the Middle East with conflict and competition as its main theme. To those in the know, however, this logical progression of China's impressively playing peacemaker in one of the globe's most complicated regions did not come as any surprise at all. Under the guidance of President Xi Jinping, the practice of major-country diplomacy with Chinese characteristics has provided Chinese wisdom and solutions for global governance.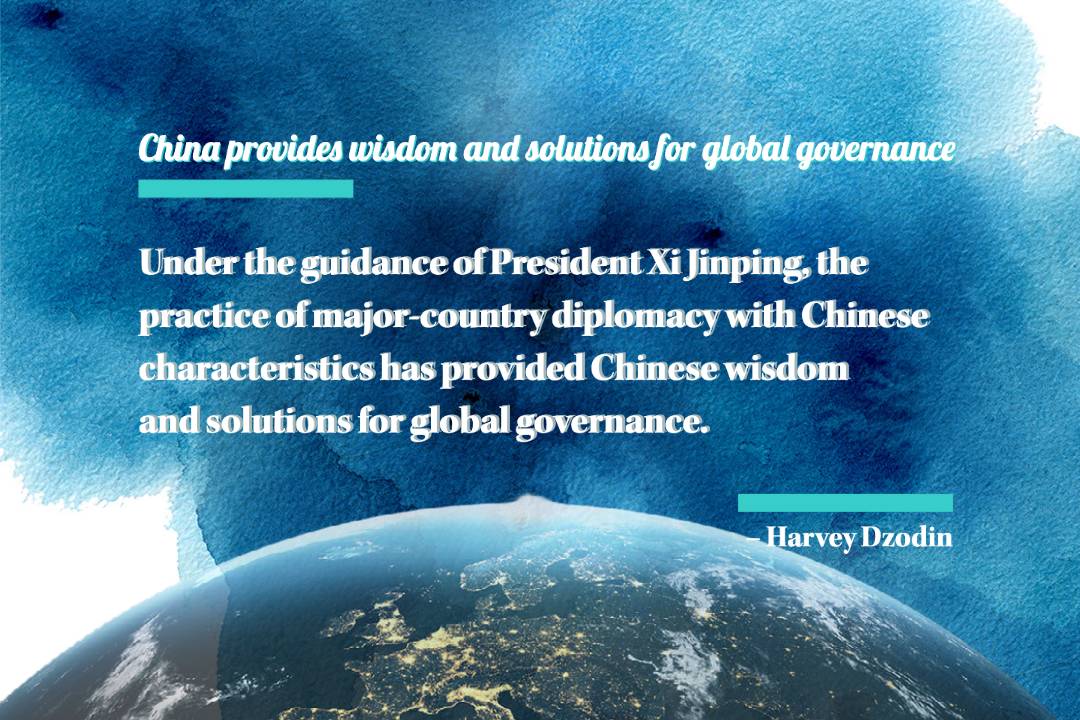 On March 23, 2013, China put forward the vision to build a "community with a shared future" in a speech at the Moscow State Institute of International Relations, calling to build a global community bound by a common destiny, where every individual has a stake in all others. Since then, China has repeated and hammered home this idea on more than 100 occasions.
To put meat on the bone, later that same year during President Xi's official visits to Kazakhstan and Indonesia, China unveiled its most significant global initiative, which was then called "One Belt, One Road", and is now called the Belt and Road Initiative (BRI). China's vision is nothing short of building a 21st-century land and sea trade version of the fabled ancient Silk Road by fostering global connectivity on a scale never before dared or imagined.
So far, 147 countries with 40% of the global GDP and two-thirds of the global population have signed up for BRI projects or indicated an interest in doing so. China has already spent an estimated $1 trillion on BRI projects such as ports, railways, and other infrastructure connecting China to the world, and the world to China.
China's Global Development Initiative (GDI) was launched at the UN General Assembly in September 2021. Chinese President Xi Jinping addressed the "unbalanced and inadequate development among and within countries". The GDI mirrors the UN's own development agenda. It aims to increase China's role as a major force in global development in the key areas of poverty alleviation, food security, global public health, financing for development, climate change and green development, industrialization, digital economy, and connectivity. In doing so, China leads by example. For instance, by lifting more than 800 million of its people out of extreme poverty, China was the first developing country to have met the first UN 2030 UN Sustainable Development Goal.
China proposed Global Security Initiative (GSI) at the Boao Forum for Asia in April 2022, and it was further detailed in the GSI Concept Paper released earlier this year. As opposed to the West's often zero-sum approach and/or "my way or the highway" confrontational stance, the GSI calls on countries "to adapt to the profoundly changing international landscape in the spirit of solidarity, and address the complex and intertwined security challenges with a win-win mindset. The GSI aims to eliminate the root causes of international conflicts, improve global security governance, encourage joint international efforts to bring more stability and certainty to a volatile and changing era, and promote durable peace and development in the world."
Most recently, on March 2023, China proposed the Global Civilization Initiative (GCI). It's an acknowledgment that the world is more and more divided, polarized, and moving dangerously close to a final reckoning in our nuclear age. It's a recognition that both the clash and superiority of one civilization over another is a fact of today's world and that we're more prone to destructive "black swan" and "grey rhino" events. The GCI puts forward four initiatives - respect for the diversity of civilizations, advocating the common values of humanity, highly valuing the inheritance and innovation of each civilization, and promoting robust international people-to-people exchanges and cooperation.
Taken as a whole, China's vision of a community with a shared future and the three global initiatives, which led China to broker the seemingly impossible Iran-Saudi peace deal, stands in sharp contrast to the inability of the US and its allies to do so. The starkest other contrast that comes to my mind occurred six years ago. On January 18th, Xi Jinping was on a state visit to Switzerland, at the UN in Geneva calling for "a community with a shared future for mankind". Two days later in Washington, Donald Trump was inaugurated 6,540 km away in actual distance, but substantively worlds apart, saying: "From this day forward, it's going to be 'America first' " and indeed it was, and still is.
Contributed by Harvey Dzodin, Senior Fellow at the Center for China and Globalization

Editor: ZAD